Chicagoland Buddy Walk: A Day to Remember
By Monica Blouin, Advanced Signing Time Academy Instructor
The Chicagoland Buddy Walk will definitely go down in Buddy Walk history as a memorable event. This year was the 10thanniversary for our event to fundraise, celebrate, and raise awareness for those living with Down syndrome. All along, we were planning to make this year the biggest and best year yet.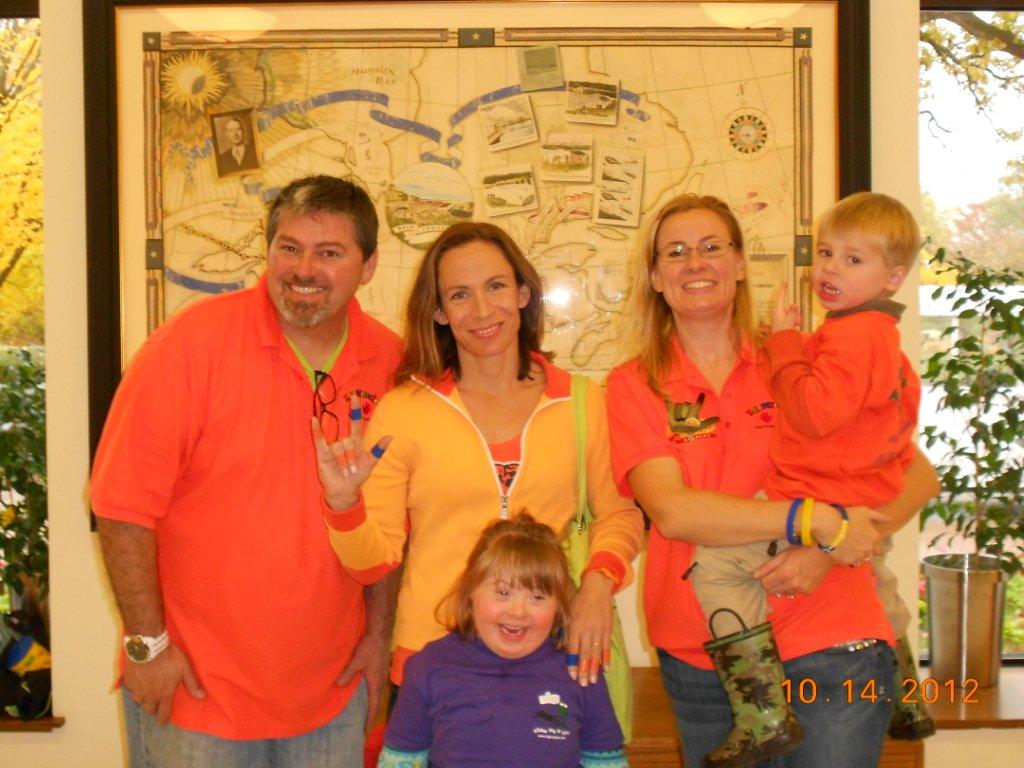 Last year, I was a new Signing Time Academy Instructor and I found out that Instructors acted as hosts and promoters of "Rachel Concerts". I knew that I wanted to do this and bring Rachel to our community for the first time.
I partnered with Down Syndrome Support, a group who manages the walk. We agreed to split the costs and I would take responsibility for the promotional part of the event and all media relations.
I started early and hosted several fundraising events in my area. I got creative and planned a vendor night/expo of local businesses, a Buddy Walk Bingo Night, and a Chili's Restaurant Dine & Donate.
I contacted almost every on-line newspaper organization, the local media, TV stations, newspaper journalists who had a connection to Down syndrome or special needs, Facebook groups, local parent magazines, local special needs organizations or groups, and Deaf organizations. I wanted to invite all of Chicagoland, regardless of this being a Down syndrome event. All Signing Time fans were welcome to join us as well. Everyone agreed that Rachel would probably, at a minimum, double our attendance!
After almost one year of planning, I finally got some significant media coverage and it paid off. We were expecting over 3,000 people according to our registration stats.
Everything looked perfect, except the weather forecast! This event is an outdoor walk with tents and outdoor activities. For those of you who are not from Chicago, we have a saying, "If you don't like the weather, just wait 10 minutes and it will change". We are famous for extreme weather as well as weather that is quick to change.
The morning started with rain. We hoped it would blow over quickly and the sun would shine for the actual walk and Rachel's performance, but NO SUCH LUCK!
The coordinators still set up our tents and prepared to go on, rain or shine. We prayed the bad weather would not deter our crowd.
We continued on with the day and like a breath of fresh air, Rachel showed up and all was well. She greeted her fans in the Signing Time tent and made us all forget about the bad weather. We prepared to get Rachel and Hopkins to the stage and, like a true miracle, the rain stopped right before her performance. The sun came out and shined bright!!! It was show time!!
Rachel took the stage and there were hundreds of families standing in front of the stage waiting to see their favorite lady with the orange jacket (and Chicago Bears Jersey) sing and sign for them. The  weather had cleared up, just as we had hoped for and there were hundreds of people coming through the park gates and lining up at the registration lines.
Rachel performed and wowed the crowd. The children were delighted. After Rachel had sung a few songs, the park security team informed us that the Chicagoland weather bureau had issued a weather advisory. There was a tornado warning for our area! The sirens were going off in the distance and we were told Rachel would need to leave the stage and take cover. Rachel said she needed to perform one more song – a dedication to a local family who recently lost their 3-year-old son, Eli, who had Down syndrome. Eli was a super Signing Time fan. His two mommies, Karen and Pam sang "Special to Me" as they removed his life support, and again at his funeral. Several people had contacted Rachel to let her know how her music touched their lives and how she played an important role in their grief. So, Rachel knew that she wanted to get this one last song in before the storms hit to support Team "Eli's Butterfly Effect."
The Down syndrome community rallied around this special family and now Rachel was to make the dedication even more memorable with her special song. She performed an amazing version of "Special to Me" and there wasn't a dry eye to be found. Even people who didn't know Eli cried as she performed. Then, as if on cue, at the end of the song it started to rain and people ran for shelter.
But something else happened that was much bigger than the rain, the tornado sirens, and the disruption. I think the best way to describe what took place is to reference a Facebook post from Karen, one of Eli's mommies.
[Today was an AMAZING day. When Pamela and I arrived at the Buddy Walk, it was very windy and drizzly. Our team tent was blown away, broken, and everyone was pitching in to keep it standing. After a comedy of errors, the rain and wind started to calm and the tent was thrown away. We ate our lunch, visited with everyone and watched the fabulous performance by Special Gifts Theatre.

As we started to get ready for Rachel Coleman, the sun came out. The sun shone brightly throughout her entire performance and her final song, a dedication to Elijah – "Special to Me". This was the last song Eli heard (sung by his mommies) as we removed him from life support. It was a very special song to Eli and us, and we had written Rachel back in August to say "thank you" for creating such a perfect song. We believe Eli might have had something to do with the sunshine today, as he loved Signing Time. After she sang, the wind picked up, tornado sirens went off, the clouds rolled in, and the torrential rain began. It's as if the heavens opened and cried with us.]
You see, the weather was exactly as we feared. It was severe and it changed quickly. But if you believe as Eli's family does, it was a "sign" – tears from heaven.
What a magical experience to think Rachel's voice and song opened the gates of heaven to allow tears to flow. Just a beautiful thought to hold on to when some people were thinking about the wind, rain, and pending tornados.
So, the 2012 Buddy Walk will go down in history for both Signing Time and the Down syndrome community as a truly memorable event. We will never forget this experience and I think Rachel will also always remember her trip to Chicago and how she played a key role in one of the biggest and best Buddy Walks yet.