Two Little Hands Systems deliver active learning for all children from the time are born to the time they start to read!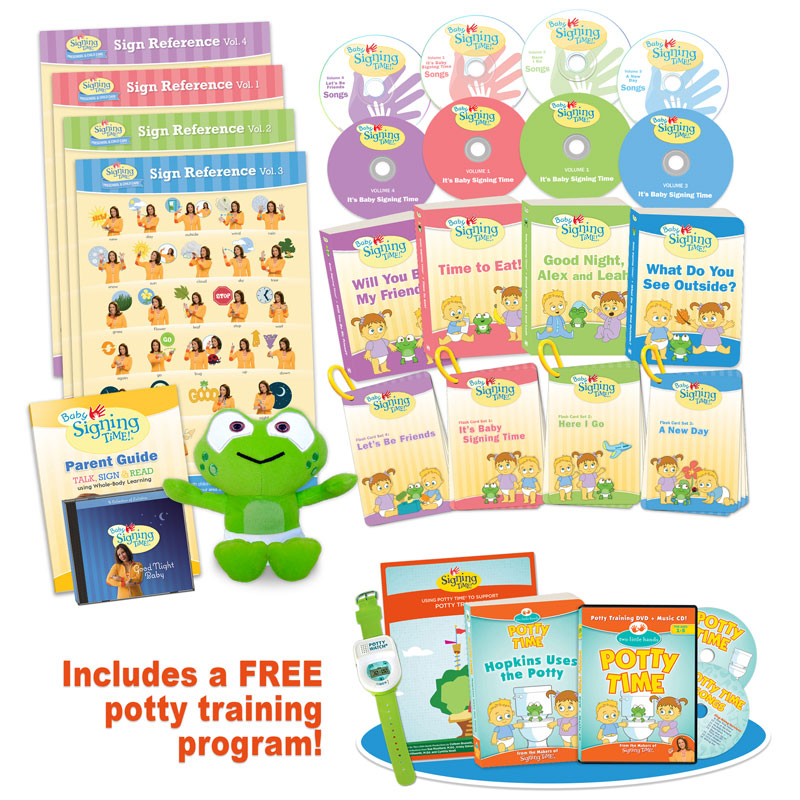 Ages 0-3: Baby Signing Time
Babies can use simple signs to communicate before they can talk. Baby Signing Time helps toddlers and preschoolers learn new words and build vocabulary. Plus, it's incredibly fun! Learn more about the Baby Signing Time Early Communication Sytem.
Ages 1-4: Potty Time
No matter what age you start or which potty training method you use, you and your child will love this playful and positive potty training support program. The video features songs that help children learn the potty routine, feel good about their bodies, and to try, try again even if there's a few accidents along the way. Shop Potty Time products here - or better yet, get the Potty Time System FREE when you buy the Early Communication System
Ages 2-8
This is the perfect age for Signing Time products. Signing helps children get ready to read by building early literacy skills. When children sign, they can get their whole bodies engaged in story time! For older children, signing can help them learn and remembers letters, numbers, and words. See our Signing Time product guide for more detailed information about our Series One, Series Two and Supplemental videos. Recommended starter products:
Signing Time Vol. 1-3 DVDs with Spanish Play Options

Signing Time Series 1 DVD Collection

Signing Time Series 2 DVD Collection

Signing Time + Baby Signing Time Full Collection

Preschool
Our newest series teaches essential preschooll skills. Rachel Coleman and her TreeSchool friends will help your child learn to ask questions, wonder, understand, and share. Welcome to the magical world of Rachel and the TreeSchoolers! Recommended starter products:
Episode 1 Activity Guide for Parents - free
Episode 1 Activity Guide for Teachers - free
Children with Special Needs
We have product bundles and parent-teacher guides for children with autism, Down syndrome, and speech and language disorders. Recommended starter products:
Teachers
We have curriculum for early childhood and elementary school educators.
Recommended starter products:
Signing Time Preschool Edition
Signing Time Classroom Edition
Placing your orders
Click on our products tab at the top of your screen to see everything we have to offer and to start adding to your shopping cart. If you are a school or institution, we do accept purchase orders. Fax your order to 801-676-4441 and we will place the order for you. We ship via the United States Postal Service (USPS) and FedEx. Information is given on estimated shipping times during the check out process. Get more information about placing your online order.