As many of you remember, we held a contest over the past couple months where we collected the names of everyone who purchased Baby Signing Time and entered them into a drawing to win a variety of Signing Time prizes! Here are our WINNERS!
Congratulations to all the Signing Time drawing winners!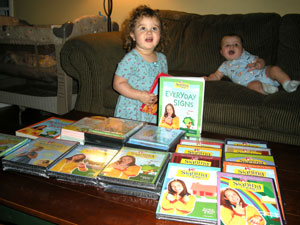 The Grand Prize Winner: Jennifer S. from Wisconsin
Jennifer and her family received the Signing Time Full Collection that includes: 25 DVDs, 3 Board Books, 4 Flash Card Sets, and 8 Music CDs. (Valued at $499.99).
First Place Winner: Marcia E. from San Diego, California
Marcia received the Signing Time Series One, Volume 1-3 Gift Set. (Valued at $58.99).
The 2nd place winners are:
Tracy K. from Seattle, Washington
Carolyn P. from Crete, Nebraska
Joy G. from University Place, Washington
Kathryn D. from Wichita Falls, Texas
Carlene E. from Comstock Park, Michigan
They received the Signing Time Board Books, Vols. 1-3. (Valued at $32.99).
The 3rd place winners are:
Neva H. from Brookline, Massachusetts
Jason S. from Bell Buckle, Tennessee
Julie C. from Dryden, New York
Robyn M. from McChord AFB, Washington
Katie L. from Whittier, California
Jennifer S. from Anchorage, Alaska
Shauna L. from Oklahoma City, Oklahoma
John S. from Colorado Springs, Colorado
Lana M. from Salt Lake City, Utah
JaNae L. from Kearns, Utah
They received the Good Night Baby Lullaby CD. (Valued at $9.99).
Keep your eyes open for future promotional deals by signing up today.