Rachel and the TreeSchoolers Activity Guides
By Colleen Brunetti, M.Ed., C.H.C
The release of episodes two and three of Rachel & the TreeSchoolers is not too far off! We hope you are getting as excited as we are (with thanks to our amazing Kickstarter backers!)
One really unique thing about these DVDs is that, along with education-packed content, great songs, and engaging characters, you will get a downloadable Activity Guide.  Spanning approximately 50 pages, this guide is filled with activities that further the learning your child is doing with Rachel & the TreeSchoolers. Essentially, the guides double as content-rich lesson plans, perfect for preschools, homeschooling families, and all who want to reinforce the learning that TreeSchoolers provides.
In these guides you will find things such as:
A review of key concepts to go over with your child
Step by step activities that connect concepts taught in the DVD to real-life experiences.
Suggested books from popular children's literature
Mini-printable books your child can create
Colorful and engaging worksheets to reinforce concepts
Coloring pages
Flash cards to reinforce key concepts and vocabulary
Flash cards to teach the sign language used in the video
Flash cards of all your favorite TreeSchooler characters
Printed lyrics for all the songs in the DVD
A special completion certificate your child can share with family and friends to "show what they know"
At Two Little Hands Productions, we strive to bring you engaging learning curriculum that your child will love, and that you can be proud to use in your home and education programs.
Therefore, these guides are designed not only to reinforce concepts, but also to keep the fun and learning going on long after TV time is over. We are confident that this is an approach to early childhood media and learning that you won't find anywhere else, and we hope you love it as much as we have loved creating it.
We can't wait to share these new Activity Guides and the upcoming Rachel & the TreeSchoolers episodes with you and the children in your life!
Update 11/17/2013  Here are the links to the new guides: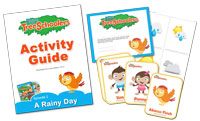 Episode 1 "A Rainy Day" Activity Guide
Episode 2 "Plants and Flowers" Activity Guide
Episode 3 "Incredible Insects" Activity Guide
Get all 3 Activity Guides at once!