Signing in Your Homeschool
Teach American Sign Language using fun-filled lesson and engaging activities perfect for Homeschooling!

Why Use Sign Language for Homeschool?
Signing builds self esteem
It boosts social confidence
Signing reinforces reading and spelling skills
Signing Time features multi-level learning: Kinesthetic (movement), Tactile (hands-on), Spatial (visual), Aural (auditory-musical), Logical (reasoning), Social (interacting with others)
ASL is recognized as a foreign language credit
It provides opportunity for parents to bond to children
Signing is fun!
Why use sign language in the classroom?
American Sign Language is a second language.
Teaching ASL helps students become more engaged in learning.
Sign Languages assists with reading and spelling.
Signing is a powerful tool for behavior management. It allows silent cues to communicate.
Reinforces other classroom curriculum.

Resources

Articles
Why should I use the Baby Signing Time Preschool & Childcare Program for homeschool?
The Baby Signing Time Preschool and Childcare Program is based on Baby Signing Time, the award-winning Baby Language System. It contains fun-filled lessons and activities for infants, toddlers, and preschoolers – plus teacher guides for you. When signs are used with your infant and toddler there are fewer incidents of tantrums, hitting, biting, and other types of aggression. In addition to creating more peaceful learning environments, signing helps you address the learning styles of all the children. When signs and words are used together, auditory learners hear the word, visual learners see the sign, and kinesthetic learners can use their hands to make the sign.
Research shows that infants and toddlers who use signs learn to talk sooner. They have larger vocabularies and use longer sentences when they start talking. And they feel more secure and confident. In addition, studies have found that preschool children who were taught signs as a part of their reading instruction scored higher on standardized reading tests. Get RESEARCH on signing with kids
What Sign Language Curriculum is available for homeschool?

Signing Time Classroom Edition makes teaching American Sign Language easy and fun. Teach ASL as a second language, and it also helps students become more engaged in learning. Signing involves physical movement, which adds a kinesthetic element to learning. This physical movement engages students' bodies as well as their brains, giving them a more intensive and multi-sensory learning experience. In addition, the physical involvement in learning pays off. Studies show that when words are presented orally, visually, and kinesthetically (through sign language), children's scores on vocabulary tests are significantly higher than their non-signing peers.
Signing is a powerful tool for behavior management. Sign language requires eye contact, which automatically helps draw children's attention to the teacher. When you use signs to cue transitions and new activities, your child(ren) will be prepared to look and listen for new directions. Parents who homeschool report that signing helps create a more harmonious environment while making learning fun.
How do I use sign language to teach Science for homeschool?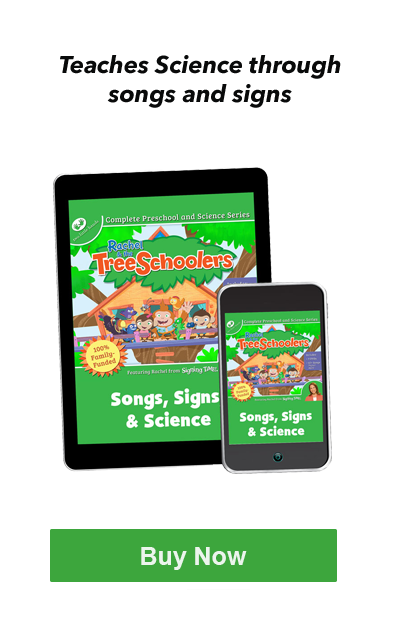 Why use sign language to teach science?
Signing supports visual, auditory, AND kinesthetic learning. Rachel & the TreeSchoolers incorporates the best elements of Schoolhouse Rock, Mr. Rogers and Sesame Street to deliver a well-rounded preschool science curriculum for ages 2-6, and beyond. Teach SCIENCE with songs and sign language. Rachel & the TreeSchoolers introduces foundational science concepts in a way your students will never forget. This series teaches kids about seasons and weather, plants and photosynthesis, animals and habitats, health and safety, earth science, and much, much more!
What online American Sign Language classes are available for older homeschool children and teens?
Sign It ASL is ideal for kids 8+ and adults with an interest in learning in-depth American Sign Language. These online classes teach ASL vocabulary, fingerspelling, sentences, grammar, Deaf culture, and much more. This course features many ASL professionals including the stars of Signing Time (Alex, Leah and Rachel Coleman), ASL comedian Keith Wann, and numerous well-known Deaf actors and educators (including Peter Cook, Crom Saunders, Alexandria Wailes, Maleni Chaitoo, Sean Forbes, and Manny Hernandez).
Sign It ASL Includes:
fun chapter videos with voice on/off feature
fingerspelling, vocabulary, and sentence practice
chapter quizzes with scoring and progress tracking
receptive conversation practice and tests
comprehensive ASL dictionary