by Gwen Cox, Director of the Signing Time Academy
The first annual Signing Time Academy Conference for Instructors was held in Las Vegas, Nevada over the weekend. It was an amazing event – the training sessions were fantastic and the live concert by Rachel was something we'll never forget. We had so much fun getting to know each other that we left already feeling excited about the 2012 Conference. I hope all of us can be there!
We announced the ASSOCIATE DIRECTOR OF THE YEAR at the Conference. This was probably the most difficult decision I have ever had to make. Narrowing down the field was a real challenge because all of the Associate Directors have been an integral part of making the Academy a success. I am happy to share with you that the 2011 Associate Director of the Year is KYLE STIELOW.  Kyle has been an Associate Director from the beginning and has been a supportive, go-to person for all of her Instructors and for those outside her own region.  Her exemplary dedication, sales, support, contributions, and communication earned her this top honor. Congratulations, Kyle!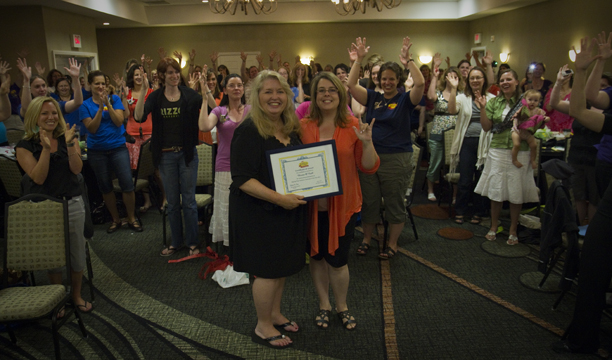 The selection for the 2011 INSTRUCTOR OF THE YEAR was especially hard because I had to choose just one from a group of over 600 Instructors! (Next year I want to create a TOP TEN WINNER GROUP!) I am happy to announce that the 2011 Signing Time Academy Instructor of the Year is CHRISTIE O'NEILL, from Sacramento, California. Christie has been an active Instructor and has worked hard to get her name out there, even holding classes with just 2 or 3 in them to keep the momentum going. She continues to plant seeds and I am sure she will soon be reaping the rewards of those plantings. I had so many letters from parents about Christie, and the amazing impact she had on their families. She was also the only candidate with nominations from two Associate Directors. Congratulations, Christie!
Who will be the 2012 Instructor of the Year?  It could be you!