Celebrating the Signing Time Academy 10 Year Anniversary
The Signing Time Academy is the educational division of Two Little Hands Productions and we have Instructors all over the world. It is fun to celebrate our Instructors and their success stories from their clients. If you have not taken a class from an Instructor, look for one near you. Our mission is to bring the benefits of ASL and active learning to children of all abilities through Certified Instructors who offer classes, products, and personal support to parents and teachers in their communities.

Although my child has never taken a signing class with Momcat Kelly, he has done rock painting classes with her. Kelly and I met through our children's school, and we got to know each other by a painted rock I "hid" on her driveway one June morning, a couple of years ago. She found the pink and green rock and was the first person to post her find on Grosse Pointe Art Rocks Kindness Rocks movement in the Pointes. Kelly's enthusiasm for teaching children shines through her incredible book and has inspired painted rock art, making thousands of neighbors smile! When Kelly paints a rock and posts clues for where to find it, people stop what they're doing and go hunt for her beautiful creations. She has been my partner and co-founder of Grosse Pointe Art Rocks since its inception, and I'm proud to have her as a friend.
Nancy Olkowski
"I  became deaf as an adult, doctors cannot explain why. I learned how to read lips, but I needed something more. My 4 children deserved more. Baby Signing Time gave me a chance to understand my children because I can not hear them. Kelly Konieczki (Momcats Signing Academy) is an amazing teacher full of life, love and compassion. She gave me hope and taught me how to communicate using Baby Signing Time. I am forever grateful. Thank you"
Anna C.
"
Amy
is an amazing teacher–so engaging for both the children and adults! She is a true gem! I joined The Signing Connection when my first son was 3 months, thinking it would be a good social experience but thanks to Amy, he learned signs really quickly and was able to use them at a very young age–many a tantrum averted! He is now almost 3 years old and talking, but still remembers his signs and will use them with his little brother who now attends sign class too.
🙂
 I never imagined sign would have such a positive impact on my family 
🙂
We are able to communicate so well!"
Natalie W.
"We've been going to Amy's classes since Isabelle was 4 months old (she's 13 months now). Isabelle adores Amy! She loves her so much that I had Amy sign for Isabelle's 1st birthday. Everyone loved it! Amy is so kind, sweet and knowledgeable. I highly recommend her!
Amy taught a special class for a group of us families that have little ones with Down Syndrome. She was amazing and taught us so much. We sang songs, read stories, and had the best time. Everyone was raving about it. Highly recommend checking out her classes!! We will certainly be back! "
Ashley M.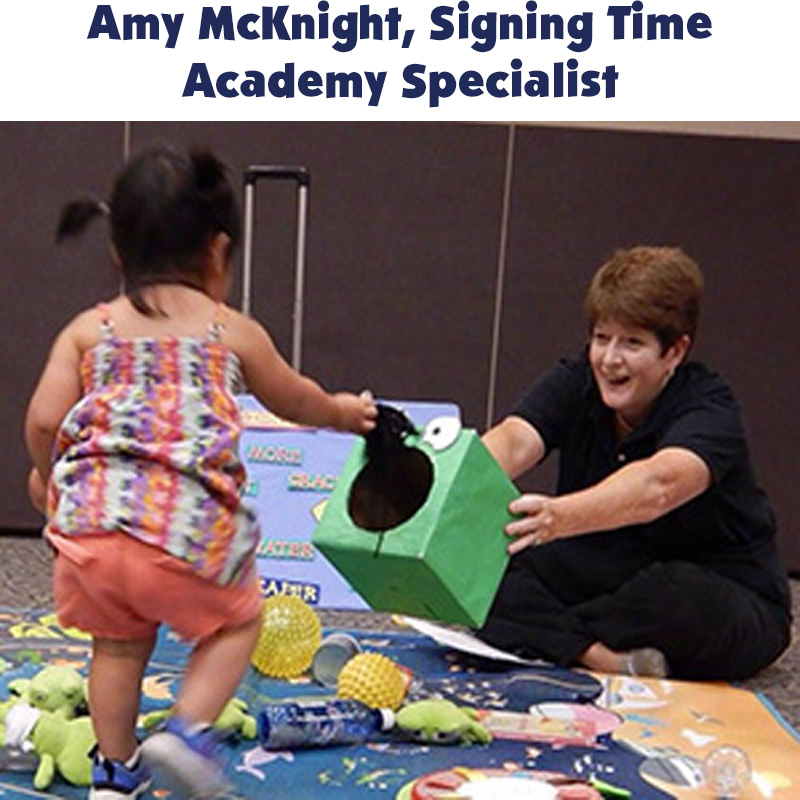 "For several years, I always looked forward to our Saturday morning classes with Ms. Amy at Baby Earth. The first time I realized it was "clicking" for my then almost 1-year old daughter (who's now 6!) was when she signed "purple ball" while playing with an actual purple ball. Now, we still sign a little together and she tries to teach her friends anything she remembers.
"
Annette, Mom to Sofia
My son was about 10 months old when he started taking Ms. Anna's class. A couple of months later, he started to use sign language and I was able to communicate with him! He enjoyed and loved Mr. Anna's class! It was hard for my son to wait until the next class because she made the class so fun! I really appreciate her for having the class in our community.
"My kids absolutely love learning ASL with Miss Shannon. They count down the days to signing class each week! As a homeschool mother, I love to watch my kids learning while they are having fun! As a special education teacher, I am impressed by Shannon's individualized approach to teaching the children. She gently corrects the kids and helps to show them their errors—letting those who self correct make their own adjustments and working with those who need a little more one-on-one help. Her weekly reviews have helped with retention and the games and books help make their lessons applicable to everyday life. We consider ourselves fortunate to have found such a great program with an amazing Signing Time Instructor!"
Kati
"Shannon is a wonderful patient teacher. My student loves her classes. She keeps them engaged and on topic. The most amazing part is that my dyslexic child is thriving while working on a second language. Whenever she is struggling with a concept or sign, Shannon will patiently work with her on doing her very best."
Tiffany
"Ms. Kim has offered Little Hands Make Big Word's Signing Story Time each week for our students and staff at MMO (RHMC Mother's Morning Out Preschool) for over 5 years.
Introducing Little Hands Make Big Word's Signing Story Time into our school has been such a positive and rewarding experience for our students, staff, and parents!
The children benefit by developing stronger communication skills which allows them to feel more secure and independent while participating in our preschool program.
Our parents have noted that their children are also communicating stronger at home and in social situations.
The teachers comment that they are so pleased to be able to meet their student's needs more effectively and to be able to offer an additional communication tool for our verbal and nonverbal students.
Our MMO Staff have all enjoyed learning to sign along with our students and we have incorporated ASL into our Annual Christmas Program and Pre-K Graduation. We feel using ASL and offering Signing Story Time has truly enhanced our Preschool Program and the learning experience for our children.
Ms. Kim is so knowledgeable while nurturing developing communication skills among the children. She has a special bond with the students, and they look forward to her weekly story time visits!
Sheila O'Donnell, Assistant Director, RHMC Mother's Morning Out Preschool"
"I loved the time I spent at Heart2Hands Signing Academy. Parker seemed to have such a fun time singing and learning. Katie always has props & visuals for the kids to see as they learned. Parker loves the crafts and activities. Katie had a perfect mix of learning and playing. Kids of all ages would benefit from taking the classes. It was a great way to socialize with other moms who loved to spend time with their children."
Karen S.
"I've been taking my daughter to Signing Time since she was 6 months old (approximately 7 months time). She can now sign and understand many signs, including: hi, milk, up, more, dog, diaper, bed, no, all done, eat, drink, water, and a few more! 😊"
Celina G.
Instructor Katie Beall
"Baby Signing Time was a complete game changer for us. We started when our son was 6/7 months old and are still going strong at 22 months. The ability to effectively communicate so young is honestly mind blowing and incredibly worth it! My absolute favorite moment so far was a trip to the store- we were waiting in line to pay and our son saw an adult signing to their friend. He decided they were instantly friends and had to sign to them as well. It was so adorable and you could tell that person was pleasantly surprised to have a random toddler signing to them. I can't wait to see where Signing Time takes us next!"
Amanda B.
"I'm
Amy Hicks.
I'm a Signing Time Instructor, because I'm a Signing Time mom.
I knew I wanted to teach my children sign language from the very beginning. Unfortunately I only had a basic understanding of the language and no clue how to get my children interested in it.
   One day I was scrolling though Netflix and there was Signing Time. I loved how it appealed towards children, and my daughter loved the songs. I would sing the songs I learned from the show to her while signing. At 6 months old my daughter signed "milk". I feel like Signing Time opened up a world of communication after that.
We never went through the terrible 2's because she was able to sign when she wanted milk or was wet. We would play signing games to help learn our ABC's and 123's.
    My daughter is now 5, she's in kindergarten but reads and writes at a 4th grade level. She knows hundreds of signs, and thanks to Alex, Leah and Rachel, she's learning to use ASL grammar to make sentences.
   She loves the TreeSchoolers and is always telling me about the things she's learned. Every class I teach, I run by her first. The Signing Time Academy has allowed me to share with other children the wonderful language that has better connected me to my own child"
(Included are pictures of my daughter watching Rachel at 11 months old as well as her in a class learning colors while tye-dyeing shirts. And a picture of her signing "name")
"I found out at a young age that I was hard of hearing. I grew up wearing a hearing aid and feeling separated from my peers, and in middle school, I quit wearing my hearing aid altogether.
It was not until I began working at the Indiana BMV that I began to realize there are more people than just myself who are hard of hearing and/or deaf. I began to learn the very basics of ASL from my customers, like greetings, please, and thank you. I was familiar with finger spelling because I learned in 3rd grade, but I wanted to learn more. Because of a fascination with sign language and an increased loss in my hearing, I wanted to be a part of this culture.
One evening at work I was talking to my supervisor. There was no one in the lobby but my boss, myself, and
Amy Hicks
. I said to my supervisor, "I wish I knew sign language." Amy turned around and handed me her card.
I have been practicing sign language with Amy for a year now, and I am fluent enough to hold conversations and I understand sarcasm and nominal spaces; one of which is difficult to understand when learning a language, the other something I had never previously heard of. I am beyond thankful I met Amy and she does a fantastic job of breaking down communication barriers between the hearing, hard of hearing, and deaf."
Sarah D.
(Sarah has since decided to go back to college and take classes in hopes of becoming an interpreter)