On August 9th, three of our Baby Signing Time cast members attended the Signing Time Live Concert in Austin, Texas. Rachel brought them on stage with her and they signed along with her to "The Pets I Love". We thought it would be fun to check in with them and their families to see where they are now.
Hopkins, Cameron, Rachel, Caitlyn, and Anyka – Austin, TX Concert, 2014
Meet Anyka
Anyka was born with a cleft palate and a very small jaw. She required a tracheotomy at one month old and required a series of facial surgeries. There was the potential for her speech to be delayed or impaired, so intensive speech therapy was started early in her life. When she was 10 months old, her speech therapist recommended teaching her sign language to give her language and communication in advance of speech. As a resource for the family, the therapist suggested Signing Time. Anyka took to signing right away, and her quality of life improved as well – she could be understood! She also had a great time watching the videos.
Anyka's mother, Aly, joined the Alex and Leah Yahoo Group. It was a place for families to met and support each other through posts and weekly chats. Aly connected with several signing families and she is still friendly with them today (including Cameron and Caitlin's families). When the Baby Signing Time project was in the works, Emilie and Rachel posted a sign list and casting call for babies under 3 who could sign everything on the list. Since Anyka knew all the signs, Aly submitted her picture and she was chosen. A month after her second birthday they traveled from San Antonio to Utah to film Baby Signing Time 1 & 2. Anyka sat down in front of Rachel and signed everything they asked of her. She also participated in a still photo shoot repeating the same signs.
When asked what her favorite memory of filming Baby Signing Time was, Aly said, "Emilie approached me and asked me if Anyka would sign "dad" while being held by a man (not her dad, because he was not with us in Utah).  I thought she would, so they decided to try. They gave her to Al, the teleprompter guy, and asked her to sign "dad". She did, but the look on her face clearly said, "You people do know this is NOT my dad, right"?  It's even funnier because that clip is in the final show!"
Al with Anyka signing "dad" – Baby Signing Time, It's Baby Signing Time
When Rachel came to Austin in 2006 for a library storytime in ASL and a concert, Anyka and Aly went up to Austin for the day.  Anyka got to perform "Colors of the Rainbow" on stage with Rachel (as "purple") and meet Rachel and Hopkins (played by Aly) afterwards.
Hopkins, Rachel, & Ankya – Austin, TX Concert, 2006
Where is Anyka now? 
Anyka loves musical theatre. She was thrilled to win the role of Young Cosette in Les Miserables last fall. She also enjoys arts and crafts. Anyka has 2 little brothers – Gabriel, age 5, and Frazier, age 1. She still loves to use her signs and was thrilled to be on stage with Rachel and Hopkins (played by Aly) in the recent Signing Time family concert in Austin, TX. After the concert in Austin, the Rachel & the Treeschoolers film crew filmed Anyka doing the same signs she signed in Baby Signing Time.
Meet Caitlyn
In February 2003 Caitlyn's mother, Jessica, stumbled across the concept of signing with your baby on the internet. After much research, she knew she wanted to communicate with her baby using ASL. Jessica found Signing Time and began signing with Caitlyn at 9 months.
Jessica also joined the Alex and Leah Yahoo Group and submitted their information when she heard about the casting call. Caitlyn was 2 at the time and was selected for the cast. They flew to Salt Lake City, Utah from Spring, Texas in 2005 for Baby Signing Time filming. Jessica said, "Our favorite memory from Baby Signing Time filming was meeting Rachel, Leah, and Lucy at Rachel's house, and eating pizza with them."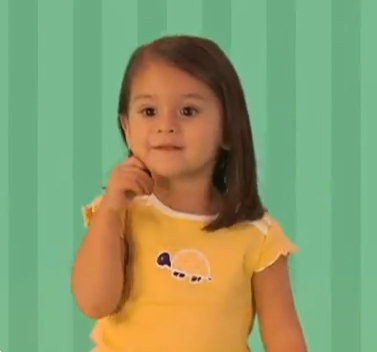 Caitlyn signing "cereal" – Baby Signing Time, It's Baby Signing Time
Where is Caitlyn now?
Caitlyn is 12 years old and entering 7th grade. She plays select volleyball, flute in the school band, and is very crafty with modeling clay.
Since Caitlyn filmed Baby Signing Time, their family has grown. She has two brothers, Ayden who is 4 years old, and Spencer who is 8 months old. They have watched Signing Time their whole lives; over 10 years of Signing Time – and now the TreeSchoolers series!
Ayden was terrified of thunder when he was younger but after watching the Rainy Day show he loves the Thunder and Lightening song and isn't afraid anymore. Jessica said, "It is pure creative genius to develop a video that packs so much educational material and make it fun and entertaining for children! As a parent and teacher, we knew we wanted to help get more TreeSchoolers shows produced. Through KickStarter, we were able to help fund more shows, and also participate in the filming. Thank you Rachel, Emilie, and crew for allowing us to be a part of this, we had so much fun filming TreeSchoolers in Austin, TX."
Meet Cameron
Cameron's older brother, Taylor, went to school with a girl who was Deaf. He loved watching the sign language interpreter in class and wanted to learn more. Jennifer, their mother, found Signing Time in 2003, while searching the internet. Cameron was a baby and he had a lot of trouble with ear infections. He had some temporary hearing loss due to the damage, so they wanted to teach him some signs. While Jennifer was considering purchasing volumes 1-3, Cameron came in and saw the clip for train. He immediately signed train and that is how his signing journey began. Cameron and Signing Time share a birthday, May 2002.
Jennifer was also active in the Alex and Leah Yahoo Group and saw that they were looking for kids to film for the new shows. They sent in photos and their family information and were invited to Salt Lake. They drove from Oklahoma to be there and had an amazing visit. That summer their family also attended the Signing Time Camp, where they filmed additional footage.
Jennifer said, "Our favorite memory from filming Baby Signing Time was meeting the Signing Time crew. They took us out to dinner and Rachel sang to the little ones. Leah helped us with sign names for our family."
Cameron signing "water" – Baby Signing Time, It's Baby Signing Time
Where is Cameron now?

Cameron is now 12 and getting ready to start 7th grade. He is still an excellent signer and is in the gifted program at school.  When he was 10 he was diagnosed with Asperger's syndrome. He has many interests and likes to perform. He dances, does magic tricks, origami, and makes rainbow loom creations. He recently made a rainbow loom figure of Rachel. He loves to learn about interesting facts and historical events. He enjoys teaching signs to his two younger sisters.
Since filming Baby Signing Time, Cameron has been blessed with two little sisters, Kaylynne, eight and Darcie, two. Darcie has mosaic Down syndrome and heart defects, which required open heart surgery. She is also Deaf. She wears a BAHA hearing aid and has learned several signs from Signing Time and her brother. When her family found out Darcie was Deaf, they knew everything would be fine. They had the help and support of their friends at Signing Time and they knew this journey was meant to be.
Jennifer said, "Filming for TreeSchoolers was a lot of fun. Darcie, Cameron, and Kaylynne were all able to participate. I love that Signing Time and TreeSchoolers include all children. Our favorite memory from filming TreeSchoolers was watching Darcie meet Rachel. They shared lots of hugs, singing, and signing. Darcie got to FaceTime with Lucy too. At the Signing Time concert, Cameron got to go on stage with the Baby Signing Time kids and perform a song with Rachel. We didn't know that was going to happen and it was a fun surprise."
Siblings of the Baby Signing Time Cast – Hopkins, Spencer, Ayden, Darcie, Rachel, & Frazier – Austin, TX Concert, 2014