Rachel and the TreeSchoolers is a new educational series for preschoolers from the makers of Signing Time, Baby Signing Time and Potty Time. Like the shows that came before it, Rachel and the TreeSchoolers actively involves children in learning  through music, movement and fun.
What makes this show different from other preschool programming is that is is based on a comprehensive curriculum that covers all of the major academic areas such as language, math and science – as well as important socials skills. This systematic approach goes beyond presenting and reviewing information. The show is actually designed to help children learn how to learn.
In Episode 1: A Rainy Day, Rachel guides the TreeSchoolers and the preschool viewers through a 4-step process that will be repeated and reinforced in subsequent episodes:
wonder
ask
understand
share
Each scene and each song is carefully crafted to fully support this 4-step framework for learning. For example, the song "I Wonder" encourages preschoolers to be curious about the world around them. When the TreeSchoolers start to wonder about the weather, the learning begins! The TreeSchoolers ask questions and Rachel helps them understand more by linking new concepts to what children already understand and providing lots of examples – just as any skilled preschool teacher would! As the show wraps up with a review, Rachel sings a song called "Share It" that encourages preschool viewers to talk about what they've learned with someone they know. This kind of sharing helps extend the learning experience out into the real world so it becomes more meaningful. Sharing teaches children initiative – and it gives family members a natural opportunity to get involved!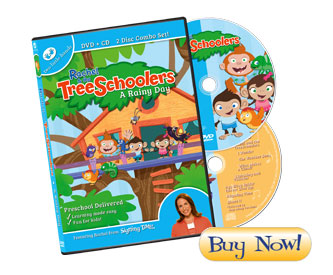 When children internalize the process of "wonder, ask, understand, and share" – they will enter kindergarten with a head start for school success!